Archive for the 'religion' Category
Date: 2011.03.09 | Category: religion | Response: 0

The Catholic Church is having its Ash Wednesday today. It is the beginning of the sorrowful passion and death of Jesus Christ. Ashes were already mounted in our foreheads to show our deep devotion to Jesus Christ who suffered much for our salvation.
Click to Learn More

Like Us on Facebook
C L I C K H E R E !!!
Recommend this site on google
Search your pick
Subscribe Now
Be Heard!!!
what they have to say
My Visitors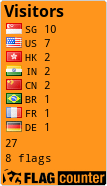 please read
my page rank
Tags
Archives
Categories
Google Analytics
Admin