Pancit is a popular noodle dish in the Philippines. There are places which are known for their famous pancit. Like here in Bicol I already tried cooking Pancit Bato and Pancit Tabaco, named after the town where the noodle is made. But, what I usually cook and been a part of our meals is the one made by a known bakeshop here in Naga City, the Pancit Romero. Pancit Romero is a noodle made by Romero's Bakeshop. The said bakeshop has been in business for years. As a matter of fact if my memory serves me right, I've seen and bought breads and pastries on them even when I was a little girl. Now that I'm already a grown up, what makes me go back to Romero's Bakeshop is their pancit. I like their noodle because when I cook it, it does not turn lumpy and looked over-cooked. And the taste is just right, it is not salty nor taste like flour. The price is very affordable, only 48 pesos per kilo as of June 2013. Here I will share with you how I cook pancit romero.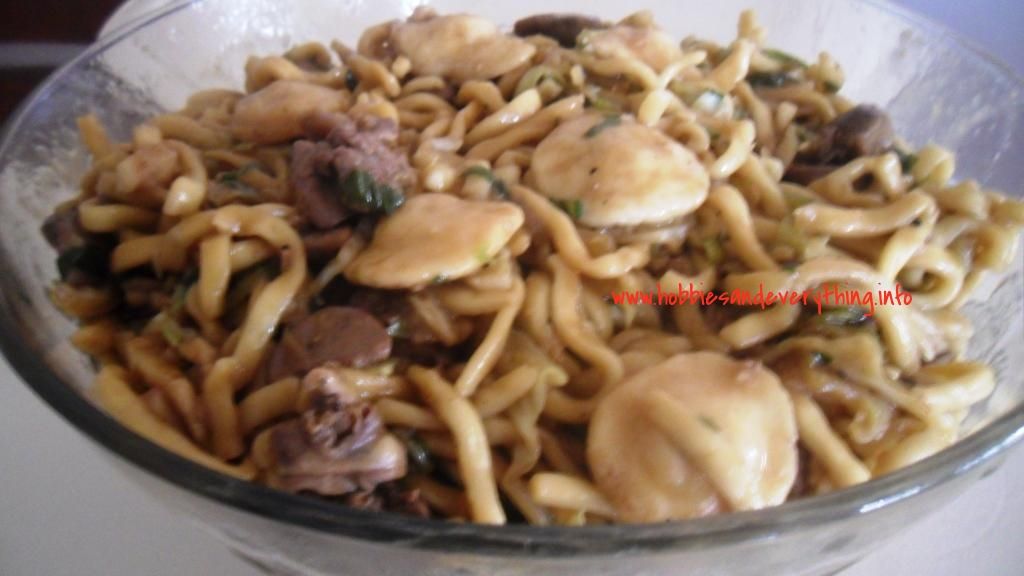 1. Slice 4 cloves of garlic, 2 medium-sized red onion, 100 grams baguio beans, 100 grams cabbage (you can also add 100 grams carrots to add color and taste). Then set aside.
 2.  Cut into small pieces: 100 grams chicken liver and 100 grams chicken wings. Slice 1 chinese longganisa. Then set aside.
 3. Wash the 500 grams pancit romero in a strainer then drain. Then set aside.
 4. In a pan, sautee garlic and onion until near golden brown, then add the chicken liver and wings. Stir to evenly cook the chicken. Add the chinese longganisa. Pour 1/4 cup soy sauce and 3 tablespoon fish sauce. When the chicken is half-cooked, add first the baguio beans and after 2 mins add the cabbage. (and other vegetable that you desire). Add a pinch of black pepper, 1/2 teasespoon salt, 1 tablespoon sugar, 1/2 of 8 gram pack Maggi Magic Sarap. Add 4 cups of water. Let it boil for 2 minutes.
 5. Add the noodles. And mix with the ingredients. After 8 minutes it is ready to be served.
 Enjoy this affordable and easy-to-cook noodle dish. And think of visiting Romero's Bakeshop your self and buy their famous pancit. Their store is located along Igualdad, Naga City just in front of the Naga City People's Mall.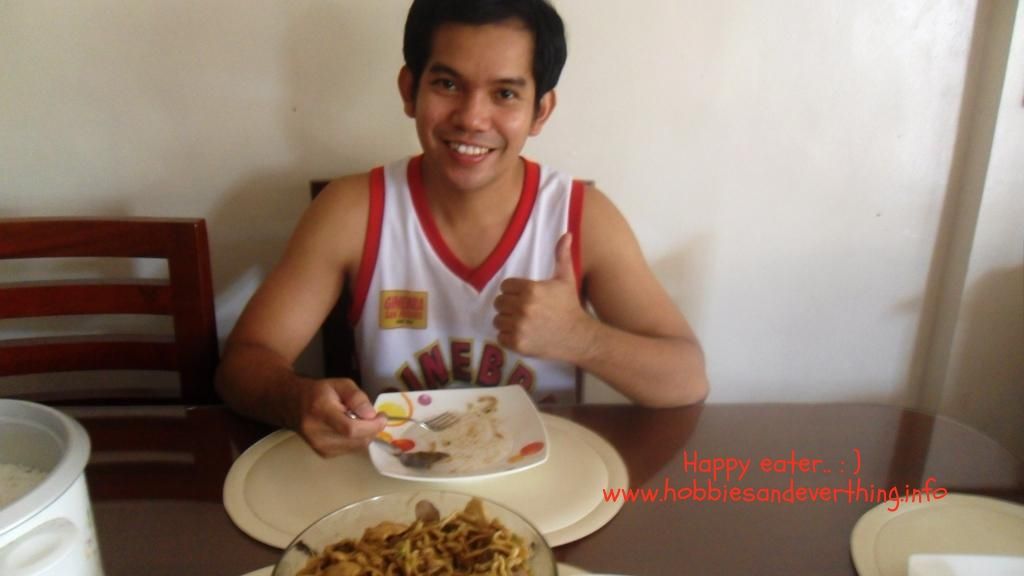 My husband is one satisfied eater. 🙂