When eating fried chicken or grilled-foods like BBQ or kebab, a perfect side dish for those is the atchara. Atchara or atsara is a condiment in the Philippines made mainly out of pickled unripe papaya. The papaya is shredded into thin strips.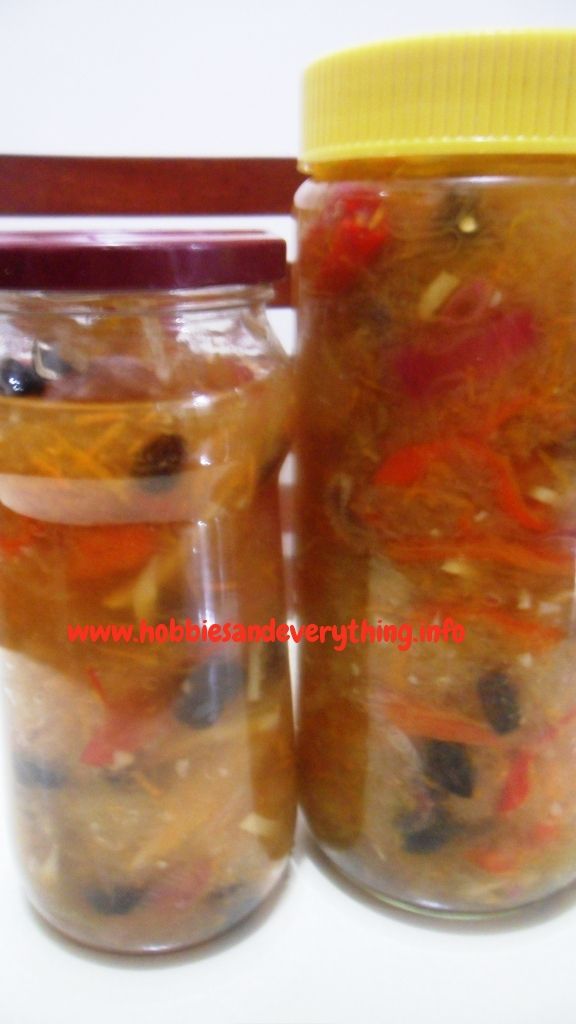 How to make atchara:
 1. Prepare the shredded papaya. When done, put a bit salt before mashing it. The salt is used to make squeezing of the juice on the papaya easier. It is important to drain the papaya for it not to look lumpy. Then set aside.
 2. Next, prepare the other igredients. Slice 1 medium sized carrot (what I did with my atchara is, I also shredded it), slice 1 red bell pepper, 1 green chili, mince 2, slice 1 red onion. Then set aside.
 3. Make the syrup. In a pan, pour 355 ml vinegar, add in the garlic, onion, black pepper, a bit of salt, 1/4 sugar then let it boil. When on boiling point, add all the other ingredients plus seedless raisins (you can also add pineapple chucks). Then add the shredded unripe papaya, let it boil for 2 minutes before turning off the fire.
 Be sure to cool it down before transferring it to a container. Enjoy your side dish. 'Til next dish. 🙂