Posts Tagged 'remote control car'
Date: 2012.02.20 | Category: hobby | Response: 3

remote control car

I've never seen my husband and my son so happy with their toys especially this remote control car that they have. Remote control cars are mostly battery-operated. RC Cars with rechargeable batteries are priced higher than those with disposable batteries. 

My husband usually say that its a stress-reliever for him. While for my son, its definitely a toy that he can't trade for. During weekends, once the sun is up, they will go to a not-so-busy street in our village and let their RC Car dash and roll.

So guys, why not try playing remote control cars be one of your hobbies. You might find it interesting collecting RC cars of different designs and models. Satisfying one's desire for toys, that's what toys are all about. Be a kid again and enjoy life!!!
Click to Learn More

Like Us on Facebook
C L I C K H E R E !!!
Recommend this site on google
Search your pick
Subscribe Now
Be Heard!!!
what they have to say
My Visitors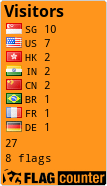 please read
my page rank
Tags
Archives
Categories
Google Analytics
Admin