In a party, spaghetti is on the top of the list when it comes to pasta. Like in a children's party, this pasta completes the whole menu to make the kids happy. So as my 3-year-old son, he really loves to eat spaghetti and would usually say it a "ghetti" to make it simpler but of course, I correct him every time he says it.
 Here is how I cook spaghetti just to satisfy my son:
First, do the pasta. In a big casserole, fill it with 4 liters of hot water then add 1 tablespoon of salt and 2 tablespoon of cooking oil. When the water is boiling, pour the 1 kilo spaghetti noodles. Cook it for 8 minutes until it reached the desired al dente bite. Tip, be sure to stir your noodles when cooking to avoid burnt part and for the coil to separate each strand from the others. Then drain your noodle with a flowing tap water. Set aside

To make the sauce, in a large non-stick pan, sauté 1 minced medium-sized onion and 4 cloves minced garlic until golden brown. Then add in 250 grams of ground pork or beef depending on what you desire. After 2 minutes add the 250 grams sliced hotdog. Pour 1 tablespoon fish sauce, a bit of black pepper, 1 tablespoon of salt, 4 grams of Maggi Magic Sarap, 1 tablespoon of sugar, mixed all ingredients. While stirring pour grated cheese to taste and let it melt with the ingredients. Pour 1 ½ kilo of spaghetti sauce, 250 grams of all-purpose cream and let it boil for 8 to 10 minutes. Be sure that your sauce is cooked-well. Gradually stir your sauce to avoid over-cooked bottom. When cooked, again gradually pour the sauce into the bowl of spaghetti noodle. Mixed until the entire noodle is covered with sauce. Add grated cheese on top. Spaghetti is ready to eat.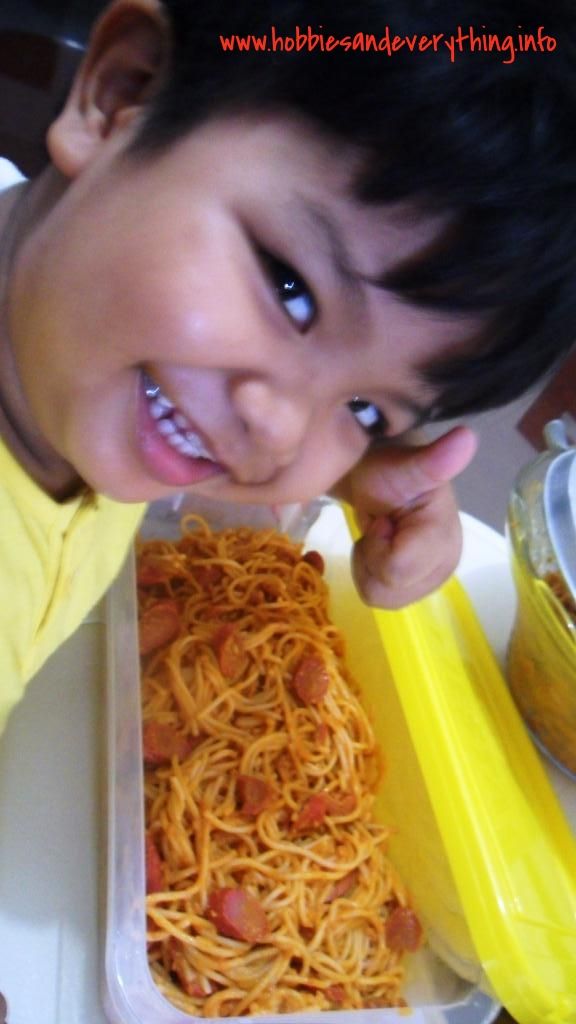 You can make this home-style spaghetti for your kids. I'm pretty much sure that they will love it.